Ready to make the invisible real and actionable?
It takes a great deal to encapsulate everything that makes you unique, from who you are, to what you offer – and words can only get you so far.
I am here to help you uncover your magic with captivating visual storytelling that will connect you with your dream customers and elevate your impact.
Drop me your message using this form and I'll get back to you shortly.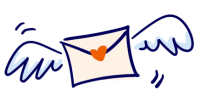 I participated in a professional co-development session facilitated by Mathilde. She is an experienced facilitator and she managed to create a nurturing space for creativity and sharing. Her visuals were very helpful in framing the conversation and bringing clarity. Mathilde is structured and attentive, which is key!
Flore
HR Consultant
I asked Mathilde to scribe an online conference on environmental and civic engagement. It was not an easy exercise and she captured exactly what we were looking for. I particularly enjoyed the way in which she took up the subject, bringing her own sensitivity, her proposals and her professionalism. And personally, I love her style!
Franck
Facilitator
A thousand thanks for this great visual mirroring. The drawings perfectly reflected my imagination. Now I have a nice visual to remind me instantly of who I am and what I want professionally. Sharing what was in my head and in my heart through a non-judgmental discussion has a relaxing effect, and it felt good!
Marie
Communication Manager